Pacific Chamber Orchestra is performing "Melody" in solidarity with the people of Ukraine
On March 26 – 27, the Pacific Chamber Orchestra (PCO) opens its performance with "Melody" by Ukrainian composer, pianist and conductor Myroslav Skoryk (1938 – 2020) dubbed "Ukraine's national treasure." Ironically, he composed the piece for a 1982 Ukrainian Word War II drama film, "High Pass." He won two Ukrainian awards: the People's Artist Award and the People's Hero Award. He was also one of the recipients of the Shevchenko National Prize in 1987 for his "Cello Concerto." His music is contemporary in style, containing idioms from German, Welsh, English and Eastern European traditions. In his compositions, including music for children, jazz riffs, and sacred pieces, he portrays his longtime concerns with ideas of universal spirituality and beauty.
Skoryk was born in Lviv, Ukraine in 1938, then a part of Poland. His parents were both educated in Austria at the University of Vienna, and subsequently, they became educators. His father was a historian and an ethnographer, while his mother was a chemist. Although his parents did not have special musical training, his mother played piano and his father played the violin. Skoryk was exposed to music in the household from an early age. Skoryk's great aunt was the famed Ukrainian 20th century soprano, Solomiya Krushelnytska. In 1947, the family was deported to Siberia, only returning in 1955.
He studied at the Lviv Conservatory from 1955 – 1960, where he trained in musical composition and music theory. He wrote "Vesna" ("Spring") for his final exam, a cantata for soloists, mixed choir and orchestra. Other pieces included a piano sonata and "V Karpatakh" ("In the Carpathian Mountains"). He entered the Moscow Conservatory in 1960, and studied with composer Dimitri Kabelvsky through 1964. In this period, he composed music in many styles: chamber, vocal and symphonic. His piece "Burlesque" is performed in concert halls throughout the world, and it is even a required work in various piano competitions. His library of compositions reflects many musical idioms.
During his career as a teacher, he was active within the National Union of Composers of Ukraine. He was co-chair of the Union with Yevhen Stankovych from 2004 to 2010. In 1996, Skoryk moved with his family to Australia, becoming a citizen, but he eventually returned to the Ukraine. From 2011 to 2016, he was artistic director of the Kyiv Opera, an appointed position.
Igor Veligan, PCO Concertmaster, Violinist & Violist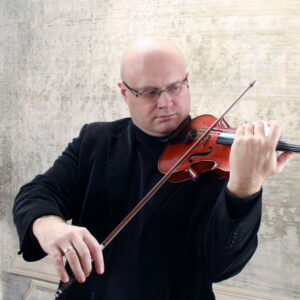 PCO Concertmaster, violinist and violist Igor Veligan has long pursued music from the Ukraine, Eastern Europe and many other traditions. "I brought Skoryk's 'Melody' to the attention of PCO Music Director Lawrence Kohl, who promptly included it in the program as a tribute to Ukrainian people," said Veligan.
Also borne in Lviv, Ukraine, Veligan came to the US in 1998. He received a Master of Arts in violin performance and chamber music from Odessa State Conservatory. He has been on the faculty at the American River College since 2004 and the Conservatory of Music at the University of the Pacific since 2006. Mr. Veligan founded the Odessa Conservatory String Quartet, which performed extensively in Ukraine and toured in Freiburg, Germany, Tokyo, and Niigata, Japan. He is an artist faculty member of the Orfeo International Music Festival (Italy).
As a chamber musician, Veligan performs extensively with pianist Natsuki Fukasawa, collaborates with various chamber ensembles and has been a guest violist with the Trio 180. He has also performed as a violist with the Chamber Music Society of Sacramento for the past ten years. He is an artist faculty member of the Hawaii Performing Art Festival and Orfeo International Music Festival (Italy). He is cofounder and artistic director of Chamber Music Festival at San Domenico Conservatory.
As an orchestra performer, Veligan is concertmaster of Pacific Chamber Orchestra and has served as a guest concertmaster of the Sacramento Philharmonic and principal violist with the Reno Philharmonic for ten years. Mr. Veligan is a founder and violin/viola teacher at the Young Talents Music School. Many of his students are winners of numerous local and state competitions.
Learn more about Veligan at http://igorveligan.com/biography.