Pacific Chamber Orchestra's reading workshop for emerging composers of new works representing/emanating from/dedicated to an aspect of the cultural heritages and diversity that constitutes our American tapestry.
Saturday Oct 30th  3:00 pm – 5:30 pm First Presbyterian Church 2020 5th Avenue, Livermore
Sunday Oct 31st  3:00 pm – 5:30 pm Our Savior's Lutheran Church 1035 Carol Lane, Lafayette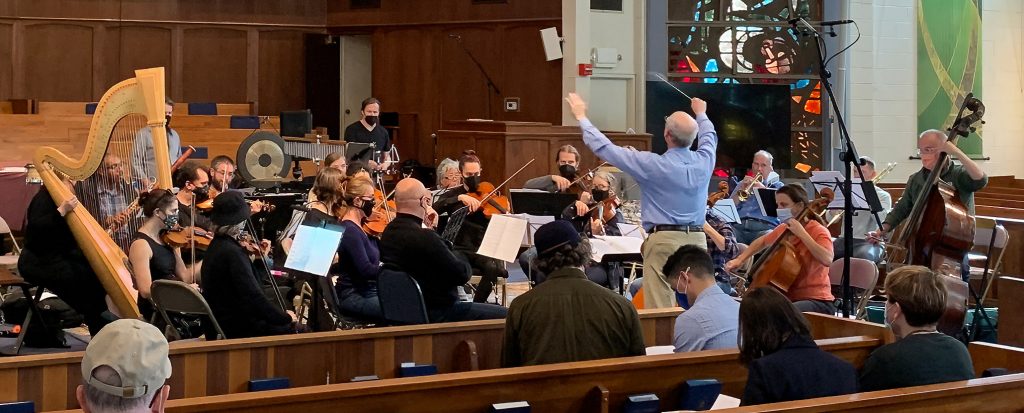 Program Notes by the Composers
Saturday 3:00 pm – 3:40 pm  Peter Chatterjee – Winder Sunrise of the Pacific
This piece reflects the idyllic, if foggy, peace of a midwinter sunrise over the Pacific Ocean as seen from Santa Cruz, California. Such an image is one I have found myself turning back. It is a personal reflection on the recent period of global and domestic turmoil and the ways in which American ideals hold a core of promise and hope that is reaffirmed by successive generations. This piece is a personal testament to the strength and beauty of American society as an synthesis of a diverse citizenry. The music is based on techniques from two American composers who lived through turbulent periods of history: Thelonious Monk and John Corigliano. 
Saturday 3:55 pm – 4:35 pm  Brian Mark – Construction STILL in Process was written for the Bang on a Can Summer Festival, conducted by Bang on a Can All Stars Clarinetist Ken Thomson, and was performed by the student performers as a large chamber ensemble work This particular version that I am submitting was revised for the Pacific Chamber Orchestra Emerging Composer Workshop. I am very passionate for this work, though I only received a limited amount of time of rehearsals for an adequate performance from the 2016 premiere. I consider this piece to be one of my finest works in the orchestral canon with respect to skills, technique, and textural orchestration. I am hoping this work would have more opportunities to be rehearsed and performed again, as I wish the first time it was read and performed could have been in a more traditional chamber orchestra setting from its 2016 premiere. Therefore, because the instrumentation from Pacific Chamber Orchestra's Call for Scores fit within the parameters for this existing work, I decided to apply with Construction STILL in Process to further explore my orchestration techniques in a professional setting, which would further develop my skills as an orchestral composer. I should note that I am part of the LGBTQIA community, which was encouraged for applicants to disclose upon submission.
Saturday 4:50 pm – 5:30 pm  Alan Hankers – The Landscape Listens
The initial inspiration to my work comes from the final stanza of Emily Dickinson's poem 'There's a Certain Slant of Light.' The poem can be interpreted as a meditation on the nature of despair, where the speaker describes the oppressive nature of winter light pressing down on the earth. It reads:
When it comes, the Landscape listens –
Shadows – hold their breath –
When it goes, 'tis like the Distance.
On the look of Death –
From this, I was inspired to compose a piece that explores the concept of a listening landscape. A part of this idea comes from Wassily Kandinsky's 'Point and Line to Plane,' where he writes that the basic artistic plane is a dormant space that is activated by the work it receives. I molded a sonic landscape that is constructed of different planes based on two chords. The material that occurs above and below the musical planes serve to activate them. When activated, these voluminous verticals, first rendered as static, are subjected to gradations along multiple spectrums that encompass noise-pitch, structural streaming of dynamics, vibration and orchestral divisions. Effectively, the landscape of the musical planes 'listens' to itself through absorption.
Sunday 3:00 pm – 3:40 pm  Bobby Ge – Songs of Refuge
Events in 2020-21 made me reconsider what 'Asian Americanness' and 'Christianity' meant to me, particularly in the aftermath of the Atlanta shootings in March 2021. The ambiguities I contemplated were both personal and historical in scope: growing up, I had encountered some of the same self- loathing Christian purity culture that had inadvertently produced the Atlanta shooter. Yet I could not deny the very tangible healing that my family and I found in the church, following years of disfunction. Historically, Christianity has long been wrapped up in the ugliness of colonialism and assimilation – there is a level of cultural erasure in the fact that 42% of Asian Americans identify as Christian, compared to significantly lower numbers in Asia itself. Yet at the same time, some of the Asian American churches that formed in the 19th century were important places of refuge for early immigrant communities. Many of these churches have gone on to serve their communities for generations and continue to be places of home for people today.
Themes of home and community lie at the heart of Songs of Refuge. The piece examines its subject matter from a distance at first, opening with haunting ambiguity as a solo violin floats high above the orchestra's shimmering textures. There are moments of fleeting warmth, exemplified by soft, chorale-like winds and brass; at the same time, the strings retreat in and out of pitchless white noise, as though afraid to speak clearly. Toward the middle, the solo violin leads the orchestra in a hymn- like progression, as a speaker before a congregation. As the music returns to a place of drifting equivocation, the hymn reemerges to call from within wild, shimmering textures and breaths of air. The piece draws to a close with the opening gesture, this time with a slight touch of hope.
Much of Songs of Refuge draws on hymns of personal significance to myself and my parents, most prominently including motifs based on When I Survey the Wondrous Cross and Before the Throne of God Above. The piece is dedicated to my family – not just my immediate, but also in the communities I call home.
Sunday 3:55 pm – 4:35 pm  Josiah Adrineda – Voyager is a musical narrative depicting the life cycle of a nautical expedition. While this piece can be generalized to any voyage, I specifically pictured the voyage of Christopher Columbus which led to his discovery of the Americas. Additionally, inspirations were drawn from Nordic folklore, the Anglo-American sea shanty, and Impressionism. What I previously described as a 'life cycle' I broke down into three segments: 1) the initial excitement of the expedition, 2) the tranquility of a moonlit night in the sea, and 3) the confused chaos of the crew in the face of a storm, followed by a heroic conclusion after conquering said storm and reaching the long-awaited destination.
Sunday 4:50 pm – 5:30 pm  Ziyi Tao – Kriana
I have recently discovered HealthyGamerGG, a Youtube Channel dedicated to discussing an array of topics from Mental Health to Psychology. One specific video was an interview where several women were invited to talk about "boundary setting", turning into their experience with receiving unwanted attention, even sexual harassment. One idea that came up just absolutely had me: men tend to create an image of a being, with which they fall in love. In the cases of many of these women, they somehow fit the image these men had in their head: they reached out not because of anything in them so to say, but because these men think they fit the image with which they have fallen in love. Thinking about this more broadly, I can't help but see its connection to the modern age and the Loneliness Crisis, so I decided to explore this idea further by writing Kriana.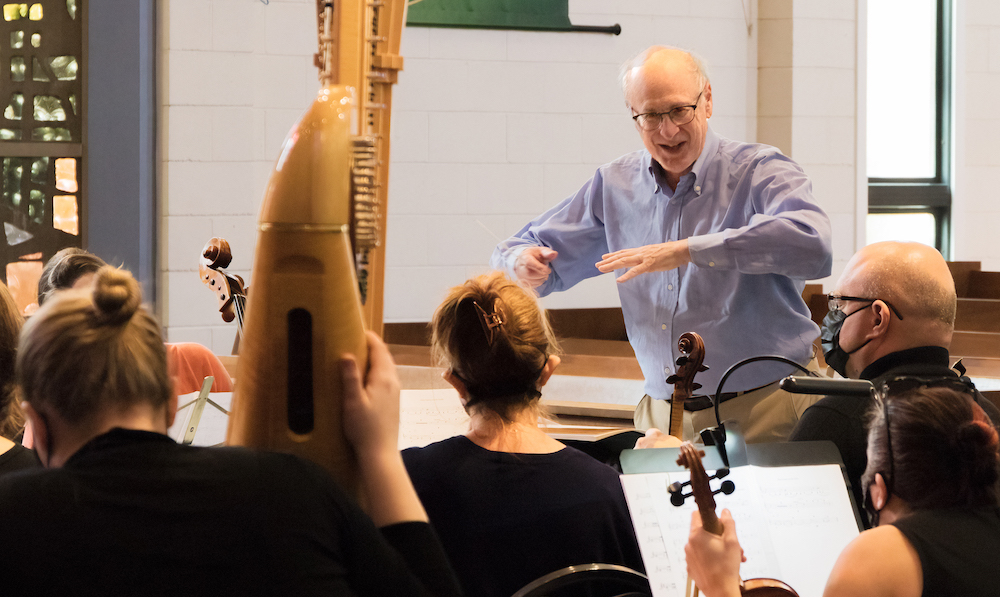 Bios of Emerging Composers
Peter Chatterjee is a composer, arranger, and conductor currently based in Livermore, California. He holds a Bachelor's of Music in jazz composition and in film scoring from Berklee College of Music and a Master's of Music in composition from California State University, Northridge. His teachers have included Dr. Marti Epstein, Ayn Inserto, Greg Hopkins, and Liviu Marinescu. As a composer and arranger Peter has written for an array of ensembles and across a wide range of musical genres, including works for orchestra, big band, chamber ensembles, soloists, and scores to short films and video games.
In the past few years, he has focused the integration of electronics into his music and on the interplay between concert and jazz compositional techniques. In addition to composing, Peter is also active in education. He has presented recurring seminars on contemporary and film music for high school orchestras and is currently a Teaching Artist at the Walnut Creek Center for Community Arts.
Bobby Ge (b. 1996) is a Chinese-American composer and avid collaborator who seeks to create vivid emotional journeys that navigate boundaries between genre and medium. He has created multimedia projects with the Space Telescope Science Institute, the Baltimore Rock Opera Society, the Scattered Players Theater Company, painters collective Art10Baltimore, and writer-poet Jenny C. Lares. Current/recent commissions include a new work for the Albany Symphony's 'Dogs of Desire' ensemble, a multimedia piece for Mind on Fire, a song for Hila Plitmann and Boss Street Brass Band, and a piece for flute, bass clarinet, and electronics commissioned by the Society of Composers, Inc.
A dedicated educator, Ge believes firmly in the value of music composition as an expressive and uniting force, and is eager to share this vision with others around him. He holds degrees from the Peabody Institute of Johns Hopkins University and the University of California, Berkeley, studying with Kevin Puts, Harold Meltzer, and Cindy Cox.
Described as "atmospheric and striking" by Outburn Magazine, Alan Hanker's music as a composer canbe heard in concert halls, on television, and on albums alongside world renowned musical artists. As a composer, he completed his Ph.D in Music Composition at Stony Brook University in 2021. His compositions have been performed throughout the United States, Europe, and Asia at venues such as Lincoln Center, New World Center, Koger Center for the Performing, and Musikhusset Aarhus. He was the 2017/18 Composer-in-Residence for the Danish music ensemble, Ensemble Edge, and has been a visiting fellow at prestigious festivals and residencies such as Great Lakes Music Festival, Virginia Center for the Arts, and Avaloch Farm Music Institute.
Alan's music for film and television is actively sought after by prominent post production houses. He is currently a Senior Composer at Amber Music, where he's written music for international advertising campaigns for Lincoln Automotive, Amazon, David Yurman, and Nintendo, among many others. His score for the short film, 'Color Blind', was awarded the Roger Taylor Best Score at the Idyllwild International Film Festival, and he regularly tours alongside piano and percussion trio, Pathos Trio, which he is a founding member of.
Brian Mark is an award winning composer, pianist and video artist based in Brooklyn, NYC, who has been hailed as an "attractive and intelligible" artist (Boston Musical Intelligencer). Brian is also the artistic director of "Ensemble in Process," which has recently been described as "a fluid approach to presenting new music in fresh contexts and juxtapositions" (The New Yorker). Brian has had works performed by ensembles such as the BBC Singers, Chelsea Symphony, members of the London Symphony Orchestra, Atlas Ensemble, Choral Chameleon, Ensemble Signal, the Ligeti quartet, and at festivals including Bang on a Can, London Contemporary Music Festival, June in Buffalo, and Spitalfields. Brian has received grants from the Brooklyn Arts Council, New Music USA, Grammy Foundation, Jerome Fund for New Music, Mozaik Philanthropy, and ASCAP. He has held residencies with the Chelsea Symphony, i-Park, and the Ucross Foundation. His symphonic work "The Persistence of Time" received an honorable mention from the 2015 American Prize in Orchestral Composition. From 2015-2017 he was appointed as an Associate Member with the London Symphony Orchestra's Composer Soundhub, which culminated of a video installation performance comprising of LSO members. He completed his PhD at the Royal Academy of Music, studying with Gary Carpenter.
Composer and sound artist Hannah Selin juxtaposes acoustic instruments and voices with electronics and field recordings to create striking and vibrant sound-spaces. She grew up in southeastern Pennsylvania helping her parents caretake a cemetery and listening to her mother write songs on scordatura guitar. Her music carries from this a sense of the supernatural, a closeness with the earth, and a fascination with all things resonant. She is currently working on Pieces of Place, a series of electroacoustic chamber pieces that explore the effects of global warming on places she's called home.
Hannah's music has been commissioned and performed by ensembles and soloists including Brooklyn Metro Chamber Orchestra, Chromic Duo, S.E.M. Ensemble, and vocalist Stephanie Lamprea. Her sound installations have been featured at Metropolitan Gallery 250 in Philadelphia, PA and the Tower Hill School in Wilmington, DE, where she collaborated with visual and textile artist Anne Yoncha. She has collaborated with choreographers Ellenore Scott (Broadway Dance Center) and Lydia Hance (Frame Dance Productions). Hannah is co-founder and lead singer with the band GADADU, and a founding member of Xanthoria Quartet.
Ziyi Tao (2002) concerns himself with the relationships and connections in the world, and attempts todefine his own position through commentaries in the form of music. He is currently working with Dr.Robert Beaser at the Juilliard School (2021 – 2025). He has also worked with many other composers,including Jon Deak, Molly Herron, Shedrick Mitchell, Max Grafe, and Dr. Reiko Füting. 
Ziyi has received numerous scholarships and awards, including the Jack Kent Cooke Young Artists Award 2021 (USA), being named the winner of High School Honors Original Composition for Large Ensemblein the 44th DownBeat Student Music Award (USA), and one of the five Finalists of the XIV Open Composers Competition Named After Andrey Petrov (RU).